VIETNAM MOTORCYCLE TOURS REVIEWS (TESTIMONIALS)
You can scroll down to the bottom of this page and send us your testimonials if you already did a tour with us.
Alternatively, you can log on TripAdvisor website and post your reviews about our business at this link. Use your Facebook or Google Plus account or just create a new account easily. In fact, they ask for reviews of tours within a year and don't accept multi-day tours reviews. However, you are still able to send reviews of your tours that started earlier by selecting date any of the dropping down 12 months. Also, you don't need to go into details of your tours or number of days you rode with us, just general reviews. Please keep it short and clear, less than 10 sentences is best.
Many more positive testimonials or comments from riders to Vietnam we suggest to check at Offroad Vietnam Adventure Travel, our mother company. Below are some recent reviews our customers sent after completing a trip with us.
---
Mr. Jens Peter Andersen from Denmark (4 days Honda dirt bike 250cc tour, ~600 km)
Tempo of the tour and the stop-over
We were very pleased that our guide held a slow and relaxed speed at all times. We felt safe under his command and were able to enjoy the beautiful surroundings. We had stops whenever we needed it (at least for cold water every hour)
Bikes and equipment
All was working well. I suggest that you make scarfs or even better "bandanas" with your logo (Offroad Vietnam) for costumers to buy. Most people would want one – also as a souvenir.
Accommodation
As we had requested, we came to experience the real Vietnam – including some genuine homestays. We got to meet the nicest Vietnamese people.
Food
Very authentic (as we had requested) and very good (even the roasted grasshoppers we were offered to taste in Mai Chau, and the homemade rice wine in Wu Lihn)
Guide and organization
Friendly and professional organization. Thanks for your help (at no charge) taking us out of Hanoi traffic the first day.
Our guide "Lee" was extremely friendly and professional. We had the feeling of being looked after 24/7. He was always helpful, honest, positive and professional. We could not have asked for a better person.
The price
We got the value for our money – we got exactly as we were promised. No surprises, no extra costs. Very satisfying.
How did you know about us?
Internet.
Additional comments?
We believe that you should offer tours with a start and finish outside Hanoi – maybe close to the airport.
The Hanoi traffic might scare some costumers away. Outside Hanoi, the trip is safe, beautiful and easy. In the city, we felt a bit scared.
You could say that you take the bikes and equipment 50 kilometer outside Hanoi center, and make start and finish point there, for a small extra charge. (we would properly ask for that if we come back for a second tour)
---
Mr. Jeremy Collins from Australia (8 days Honda dirt bike 250cc tour, ~1,600 km)
I went on this tour with very high expectations and they didn't disappoint.
Tempo of the tour and the stop-over
The tempo was fine. I was initially worried that it might be a bit too much but we had no problems at all.
Bikes and equipment
The bikes were great, They never let us down once and were the right size for the tour that we did.
Accommodation
The accommodation was fine. I enjoyed the home stays the best.
Food
The food was absolutely fantastic. I was a little disappointed that when I travelled south the food wasn't as good as what we had on the tour.
Guide and organisation
Our guide (Linh) was great. He made the tour very enjoyable and made sure that we had no problems. Offroad Vietnam is very professionally run. We had some trouble with flights and they were very helpful. They even arranged for our motorbike gear to be posted back to Australia. 4-star service.
Price
Could not complain at all about the price. Very competitive and value for money. Can't go wrong.
How did you know about us?
I found out about Offroad Vietnam through the Internet.
---
Mr. Spencer Utt from the U.S.A (8 days Honda road bike 160cc, ~1,600 km)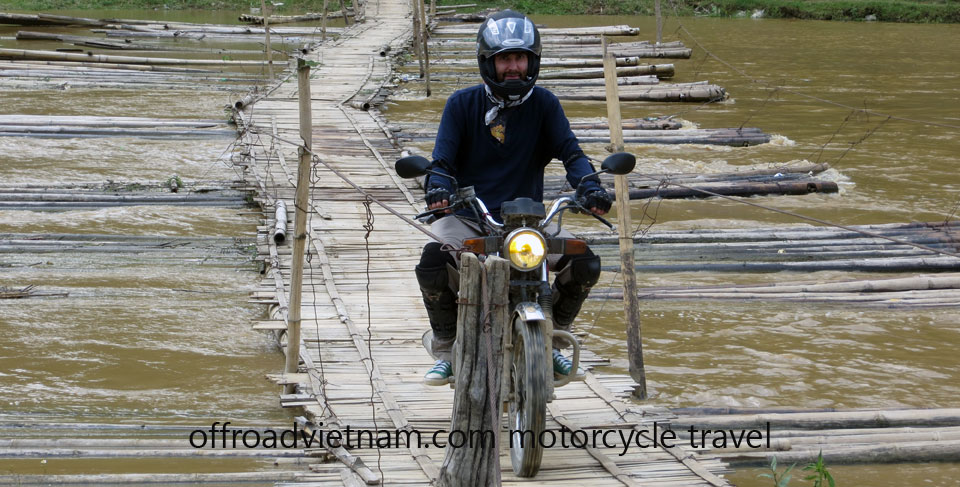 Hello Anh,
Sorry, it has taken me so long to get back to you. It's been a busy month for work, but things are slowing down again.
It was a truly amazing trip, if not my favorite that I have had in Vietnam so far. I'm very glad that I was able to visit this area of Vietnam while the local culture remains authentic and the scenery hasn't been spoiled by the development that has ruined so many other sites in Vietnam.
The pace of the trip was enjoyable and relaxing and allowed enough time to take in the scenery. It was a pity that on the third day the hotel's situation in Dong Van meant that we had to miss Long Cu, which I had been looking forward to visiting, as well as a ride through the most scenic area of the "rocky mountains" when it was nearly dark.
Accommodation and food were all fine, but I would have preferred to stay at cheaper nha nghis along the way since the more expensive khach sans we stayed at still had hard cheap beds. At first, I was thrown off by how high your prices are, but the quality of the tour and guide services made it worth it.
The Honda GL was in great condition and the shocks were downright luxurious compared to my Suzuki. It was nice to not have to worry about the daily maintenance and repairs which have always been big headaches on the trips I've done on my own.
My only big concern from the trip was the other members of the group were not experienced riders which led to a few minor accidents and going at a slower pace in general. I would recommend having a compulsory driving instruction activity in Hanoi the day before the trip for people that don't have extensive or other recent riding experience, or even for experienced riders to get used to the quirks of the bike they'll be renting.
I've attached some of my favorite photos from the trip if you'd like to use them.
Cheers,
Spencer Utt.
---
Mr. Tim and Mrs. Alice Samuelson from the U.S.A (8 days Honda dirt bike 150cc, ~1,600 km)
Hello Anh,
Alice and I got back to the USA from Vietnam about a week ago and then went trout fishing. So, we are finally getting back to you about our trip with Offroad Vietnam at the end of April.
Overall we are very pleased with Offroad Vietnam and thought the trip was fantastic. On the business side, you were very honest, straightforward, and easy to deal with. You fulfilled all the promises you made going in. There were no surprises other than we were surprised at how small the physical space was at your business. You accomplish a lot out of a very small space.
It is not a big thing, but I got the impression in your emails to me that there would be the possibility of more home-stays on this route. But it turns out that the two we stayed with are the only home-stays along this route. We were looking forward to more home-stays, so that was a little disappointing. But the two home-stays on the trip were very nice and enjoyable.
The trip was great and we appreciate modifying the trip to allow Alice to complete it. We are very happy you convinced us to do the Ha Giang/northeast trip, instead of the Sapa/northwest trip. The scenery, especially between Dong Van and Meo Vac, is beyond description. To fill out your feedback list:
Tempo of the tour and the stop-over
This was fine for us. We could stop whenever we wanted for whatever reason. Neither Alice nor I set a particularly fast pace, but Vuong was patient.
Bikes and equipment
Our bikes and other equipment have seen a lot of use but they were very well maintained and ran very well.
Accommodation
We thoroughly enjoyed both home-stays. The hotels were fine.
Food
The food was very good and authentic Vietnamese.
Guide and organization
Vuong was great. We can't say enough about how good he was, especially how good he was with Alice and having to have her ride behind him the whole way after the first day. He was patient, a great mechanic, knowledgeable, friendly, and fun.
The price
The price was reasonable.
How did you know about us?
We read about you in Lonely Planet.
So, we want to thank you for providing a first class service. We do plan to write positive comments/reviews to Lonely Planet, Trip Advisor, and Advrider (with pictures).
Regards,
Tim Samuelson
---
Mr. Greg Wright from Australia (5 days Honda dirt bike 250cc, ~1,000 km)
Anh Wu,
Overall, this is a great trip. It's a good itinerary and although we had some long days, everyone hung in there and made it ok.
Lee was an excellent guide. He judged distances and times very well and we never felt rushed. He also interacted well with the group and knew how to mix with Aussies. He was great. Not sure about his mechanical abilities as he wasn't too keen to mess with the bikes too much.
Hai, the driver, was harder to relate to as because he didn't speak English. But he was always where he was supposed to be with the truck and did his job well.
The bikes were great for what they were and the job they did. They were pretty reliable although the usual comment was the brakes were pretty worn and so were some of the gear boxes. But overall they were great and got us around the whole trip. We did pull out the spare XL but it wouldn't idle so we put it straight back. A bit of a waste dragging it around the whole trip.
The accommodation was also quite good and the farm-stay was an excellent last night experience. The Hanoi Boutique Hotel was an excellent place to start and very close by. Their staff were excellent and helped us out getting orientated.
Overall you were excellent to deal with. We got more than we were expecting and it was well organised and executed. You should be well proud of your operation and staff. We personally know the owner of Travel Indochina and he told us he would only recommend 2 bike tour companies – and you were the only one in Hanoi. His recommendation proved worthy. Well done.
That's about it Anh. Thanks for a great trip and we will certainly recommend you to others. We think we would like to try Burma next.
All the best for the summer season and beyond,
Yours truly,
Greg Wright
---
Mr. Scott Fletcher from Australia (7 days Honda XR250, ~1,500 km)
I would like to personally thank you Anh, for helping us out when my father lost his passport. Your help was greatly appreciated and I will be telling everyone I meet about you. If there is anything I can do to help you, say like with the website, which is what I do for work. Don't hesitate to contact me.
Tempo of the tour and the stop-over
Perfect! The standard trip on the website had a few days that were too short a ride. Thon changed the 2nd Day to miss a stop and continue straight to Ba Be, which made that day and the next day the best of the tour.
Bikes and equipment
Great. Obviously, the bike is perfect or brand new. But they did the job and were ready to take on anywhere the tour took us.
Accommodation
The guest houses in the villages were awesome. I preferred them over the hotel stays at Cao Bang and Lang Son. Even though the guest houses weren't as good as the hotels, it gave the tour a more local feel.
Food
The food was awesome. The tour started with normal Asian western style food. But by the 3rd day, it's getting boring. Then we asked Thon to give us a more traditional breakfast and dinner, and it was a refreshing change.
Guide and organisation
Thon was an awesome guide and his knowledge of Vietnam was much better than other guides we met. The organisation was perfect, even when we changed the tour to be customised to us, it ran without any problem.
The price
Very good. Even though you could do it cheaper if I organised it myself. I was happy to pay that little bit more, for you to organise the whole thing and all I need to do was turn up.
How did you know about us
Cycle Torque Magazine (http://www.cycletorque.com.au). They did a featured article on Offroad Vietnam, and one of the tours. I was hooked and had to do it.